Various people (including mainstream journalists) have begun to ask me if
'Lyoness'
has any connection with
'Scientology.
'
Faced with isolated criminal investigation, the bosses of the
'Lyoness'
racket have already started to refund victims in Europe; at the same time, expanding their mystifying labyrinth of legally-registered corporate structures, in order to prevent, and/or divert, further investigation of their clandestine criminal objectives,
and isolate themselves from liability.
In fact, the pernicious
fairy story entitled,
'Lyoness,'
is currently in the process of fragmenting, and one of the
exciting
new chapters is entitled,
'FlexKom.'
When faced with isolated criminal investigation, exactly the same tactics have been used for decades by the authors of the pernicious fairy story entitled
'Scientology,'
in order to prevent, and/or divert, further investigation of their clandestine criminal objectives, and isolate themselves from liability

__________________________________________________
This week it was widely-reported in the mainstream media that France's highest Court of Appeal had upheld a guilty verdict against 'The Church of Scientology.'
Unfortunately, the sloppy and inaccurate reporting of these tragicomic events is symptomatic of the thoughtless approach taken by most mainstream journalists confronted by reality-inverting, cultic, groups.
A small flock of sadly-deluded French

'Scientology'

adherents apparently remain totally convinced that

their innocent leaders are being treated as 'religious heretics'

and that

the French judicial system is under the control of anti-religious fanatics.
Although the inflexible, American bosses of the so-called

'Church of Scientology'

(

via an inflexible

Ministry of Truth),

steadfastly pretend that

their world-wide, religious/self-betterment movement is the victim of anti-religious extremism in France,'

the so-called 'Church of Scientology' was not convicted of any criminal offence in the Republic of France, for the simple reason that, officially, it does not exist there.
What has actually happened in France, is merely further proof that
the organization commonly-referred to as 'Scientology,' should be classified as a pernicious cult.
1975,
'
Operation Snow White'
-
was the comic-book title given by L. Ron Hubbard to the infiltration of the US Internal Revenue Service, the US Coast Guard and US Drug Enforcement Agency, by a small flock of his deeply-deluded

'

Scientology'

adherents. Using a hermetic chain of command (as employed by organised crime gangs and espionage networks) Hubbard's

secret agents

a.k.a.

'Guardians'

were ordered

to recover, and destroy, documents recording a catalogue of crimes

which Hubbard steadfastly pretended

he had never committed.

One of these self-righteous criminals, Gerald Bennet Wolfe (code-name

'Silver'

), stole in excess of 30 thousands documents from the IRS in Washington DC, falsely believing that

his actions were perfectly justifiable, because they were part of a war against evil extraterrestrials.
1977, 8th. July, at dawn, 134 FBI agents swooped on the offices of
'Scientology'
in W
ashington DC
and Los Angeles seized 48 149 documents. A week later, L. Ron Hubbard went into hiding.
1978, 15th. August, a federal grand jury indicted 9
'Scientologists',
including Mary Sue Hubbard, on 28 counts of conspiring to steal government documents, stealing government documents, burglarizing government offices, intercepting government communications, harbouring a fugitive, making false declarations to a grand jury and conspiring to obstruct justice.
1979, 26th. October, US Distric Judge Charles R. Richey found the 9
'Scientologists'
guilty as charged. Mary Sue Hubbard and two fellow conspirators were fined $ 10 000 each and jailed for 5 years. 6 other conspirators were fined lesser amounts and given shorter jail sentences.
More than half a century of evidence, proves beyond all reasonable doubt that what has laughably been labelled

'Dianetics,'

is nothing more than an absurd, cultic pseudo-science, and that the impressive-sounding made-up term

'Scientology'

is, therefore, part of an extensive, thought-stopping, non-traditional jargon which has been developed, and constantly-repeated, by the instigator, and associates, of an ongoing, major, organized crime group (hiding behind a labyrinth of legally-registered corporate structures) to shut-down the critical, and evaluative, faculties of victims, and of casual observers, in order to perpetrate, and dissimulate, a blame-the-victim advance fee fraud (dressed up as

'self-betterment/spiritual' programs

)

and various other related-abuses of trust.
The pernicious fairy story entitled,
'Scientology,'

is neither original nor unique - it is part of an evolving, criminogenic phenomenon that has always posed a threat to democracy and the rule of law.
__________________________________________________

From:

'The Universal Identifying Characteristics of a Cult.'

David Brear (copyright 2005)
1). Deception.
Pernicious cults are presented externally as traditional associations. These can be arbitrarily defined by their instigators as almost any banal group ('religious', 'cultural', 'political', 'commercial', etc.). However, internally, they are always totalitarian (i.e. they are centrally-controlled and require of their core-adherents an absolute subservience to the group and its patriarchal, and/ or matriarchal, leadership above all other persons). By their very nature, pernicious cults never present themselves in their true colours. Consequently, no one ever becomes involved with one as a result of his/her fully-informed consent.
2). Self-appointed sovereign leadership.
Pernicious cults are instigated and ruled by psychologically dominant individuals, and/or bodies of psychologically dominant individuals (often with impressive, made-up names, and/or ranks, and/or titles), who hold themselves accountable to no one. These individuals have severe and inflexible Narcissistic Personalities (i.e. they suffer from a chronic psychological disorder, especially when resulting in a grandiose sense of self-importance/ righteousness and the compulsion to take advantage of others and to control others' views of, and behaviour towards, them).* They steadfastly pretend moral and intellectual authority whilst pursuing various, hidden, criminal objectives (fraudulent, and/or sexual, and/or violent, etc.). The admiration of their adherents only serves to confirm, and magnify, the leaders' strong sense of self-entitlement and fantasies of unlimited success, power, brilliance, beauty, ideal love, etc.
_________________________________________________________________________
* 'Narcissistic Personality Disorder,' is a psychological term first used in 1971 by Dr. Heinz Kohut (1913-1981). It was recognised as the name for a form of pathological narcissism in 'The Diagnostic and Statistical Manual of Mental Disorders 1980.' Narcissistic traits (where a person talks highly of himself/herself to eliminate feelings of worthlessness) are common in, and considered 'normal' to, human psychological development. When these traits become accentuated by a failure of the social environment and persist into adulthood, they can intensify to the level of a severe mental disorder. Severe and inflexible NPD is thought to effect less than 1% of the general adult population. It occurs more frequently in men than women. In simple terms, NPD is reality-denying, total self-worship born of its sufferers' unconscious belief that they are flawed in a way that makes them fundamentally unacceptable to others. In order to shield themselves from the intolerable rejection and isolation which they unconsciously believe would follow if others recognised their defective nature, NPD sufferers go to almost any lengths to control others' view of, and behaviour towards, them. NPD sufferers often choose partners, and raise children, who exhibit 'co-narcissism' (a co-dependent personality disorder like co-alcoholism). Co-narcissists organize themselves around the needs of others (to whom they feel responsible), they accept blame easily, are eager to please, defer to others' opinions and fear being seen as selfish if they act assertively. NPD was observed, and apparently well-understood, in ancient times. Self-evidently, the term, 'narcissism,' comes from the allegorical myth of Narcissus, the beautiful Greek youth who falls in love with his own reflection.
Currently, NPD has nine recognised diagnostic criteria (five of which are required for a diagnosis):
has a grandiose sense of self-importance.

is preoccupied with fantasies of unlimited success, power, brilliance, beauty, ideal love, etc.

believes that he/she is special and unique and can only be understood by other special people.

requires excessive admiration.

strong sense of self-entitlement.

takes advantage of others to achieve his/her own ends.

lacks empathy.

is often envious or believes that others are envious of him/her.

arrogant disposition.
_____________________________________________________________________
3). Manipulation
.
Pernicious cults employ co-ordinated, devious techniques of social and psychological persuasion (variously described as: 'covert hypnosis', 'mental manipulation', 'coercive behaviour modification', 'group pressure', 'thought reform', 'ego destruction', 'mind control', 'brainwashing', 'neuro-linguistic programming', 'love bombing', etc.). These techniques are designed to fulfil the hidden criminal objectives of the leaders by provoking in the adherents an infantile total dependence on the group to the detriment of themselves and of their existing family, and/or other, relationships. Pernicious cults manipulate their adherents' existing beliefs and instinctual desires, creating the illusion that they are exercising free will. In this way, adherents can also be surreptitiously coerced into following potentially harmful, physical procedures (sleep deprivation, protein restriction, repetitive chanting/ moving, etc.) which are similarly designed to facilitate the shutting down of an individual's critical and evaluative faculties without his/ her fully-informed consent.
4). Radical changes of personality and behaviour. Pernicious cults can be of any size, duration and level of criminality. They comprise groups, and/or sub-groups, of previously diverse individuals bonded by their unconscious acceptance of the self-gratifying, but wholly imaginary, scenario that they alone represent a positive or protective force of purity and absolute righteousness derived from their leadership's exclusive access to a superior or superhuman knowledge, and that they alone oppose a negative or adversarial force of impurity and absolute evil.Whilst this two-dimensional, or dualistic, narrative remains the adherents' model of reality, they are, in effect, constrained to modify their individual personalities and behaviour accordingly.
5). Pseudo-scientific mystification.
The instigators of pernicious cults seek to overwhelm their adherents emotionally and intellectually by pretending that progressive initiation into their own superior or superhuman knowledge (coupled with total belief in its authenticity and unconditional deference to the authority of its higher initiates) will defeat a negative or adversarial force of impurity and absolute evil, and lead to future, exclusive redemption in some form of secure Utopian existence. By making total belief a prerequisite of redemption,adherents are drawn into a closed-logic trap (i.e. failure to achieve redemption is solely the fault of the individual who didn't believe totally). Cultic pseudo-science is always essentially the same hypnotic hocus-pocus, but it can be peddled in an infinite variety of forms and combinations ('spiritual', 'medical', 'philosophical', 'cosmological,''extraterrestrial', 'political', 'racial', 'mathematical', 'economic', 'New-Age', 'magical', etc.), often with impressive, made-up, technical-sounding names. It is tailored to fit the spirit of the times and to attract a broad range of persons, but especially those open to an exclusive offer of salvation (i.e. the: sick, dissatisfied, bereaved, vanquished, disillusioned, oppressed, lonely, insecure, aimless, etc.). However, at a moment of vulnerability, anyone (no matter what their: age, sex, nationality, state of mental/ physical health, level of education, etc.) can need to believe in a non-rational, cultic pseudo-science. Typically, obedient adherents are granted ego-inflating names, and/or ranks, and/or titles, whilst non-initiates are referred to using derogatory, dehumanizing terms. Although initiation can at first appear to be reasonable and benefits achievable, cultic pseudo-science gradually becomes evermore costly and mystifying. Ultimately, it is completely incomprehensible and its claimed benefits are never quantifiable. The self-righteous euphoria and relentless enthusiasm of cult proselytizers can be highly infectious and deeply misleading. They are invariably convinced that their own salvation also depends on saving others.
6). Monopoly of information.
The leaders of pernicious cults seek to control all information entering not only their adherents' minds, but also that entering the minds of casual observers. This is achieved by constantly denigrating all external sources of information whilst constantly repeating the group's reality-inverting key words and images, and/or by the physical isolation of adherents. Cults leaders systematically categorize, condemn and exclude as unenlightened, negative, impure, absolutely evil, etc. all free-thinking individuals and any quantifiable evidence challenging the authenticity of their imaginary scenarios of control. In this way, the minds of cult adherents can become converted to accept only what their leadership arbitrarily sanctions as enlightened, positive, pure, absolutely righteous, etc. Consequently, adherents habitually communicate amongst themselves using their group's thought-stopping ritual jargon, and they find it difficult, if not impossible, to communicate with negative persons outside of their group whom they falsely believe to be not only doomed, but also to be a suppressive threat to redemption.
7). False justification.
In pernicious cults, a core-group of adherents can be gradually dissociated from external reality and reformed into deployable agents, and/or de facto slaves, and/or expendable combatants, etc., furthering the hidden criminal objectives of their leaders, completely dependent on a collective paranoid delusion of absolute moral and intellectual supremacy fundamental to the maintenance of their individual self-esteem/identity and related psychological function. It becomes impossible for such fanatics to see humour in their situation or to feel pity for, or to empathise with, non-adherents. Their minds are programmed to interpret the manipulation, and/or cheating, and/or dispossession, and/or destruction, of inferior outsiders (particularly, those who challenge their group's controlling scenario) as perfectly justifiable.
8). Structural mystification.
The instigators of pernicious cults can continue to organize the creation, and/or dissolution, and/or subversion, of further (apparently independent) corporate structures pursuing lawful, and/or unlawful, activities in order to prevent, and/or divert, investigation and isolate themselves from liability. In this way, some cults survive all low-level challenges and spread like cancers enslaving the minds, and destroying the lives, of countless individuals in the process. At the same time, their leaders acquire absolute control over capital sums which place them alongside the most notorious racketeers in history. They operate behind ever-expanding, and changing, fronts of 'limited-liability, commercial companies,' and/or 'non-profit-making associations,' etc. Other than 'religious /philosophical' and 'political' movements and 'secret societies,' typical reality-inverting disguises for cultic crime are:
'charity/ philanthropy'; 'fund-raising'; 'lobbying' on topical issues
('freedom', 'ethics', 'environment', 'human rights', 'women's rights', 'child protection', 'law enforcement', 'social justice', 'peace,' etc.); 'publishing and media'; 'education'; 'academia'; 'celebrity'; 'patriotism'; 'information technology'; 'public relations'; 'advertising'; 'medicine'; 'alternative medicine'; 'nutrition'; 'rehabilitation'; 'manufacturing'; 'retailing'; 'direct selling/ marketing'; 'multilevel marketing'; 'network marketing'; 'regulation'; 'personal development'; 'self-betterment'; 'positive thinking'; 'self-motivation'; 'leadership training'; 'life coaching'; 'research and development'; 'investment'; 'real estate'; 'sponsorship'; 'bereavement/trauma counselling'; 'addiction counselling'; 'legal counselling'; 'cult exit-counselling'; 'financial consulting'; 'management consulting'; 'clubs'; etc.
9)
. Chronic psychological deterioration symptoms.
The long-term core-adherents of pernicious cults are psychotic (i.e. suffering from psychosis, a severe mental derangement, especially when resulting in delusions and loss of contact with external reality). Core-adherents who manage to break with their group and confront the ego-destroying reality that they've been systematically deceived and exploited, are invariably destitute and dissociated from all their previous social contacts. For many years afterwards, recovering former core-adherents can suffer from one, or more, of the following psychological problems (which are also generally indicative of the victims of abuse):
depression; overwhelming feelings (guilt, grief, shame, fear, anger, embarrassment, etc.); dependency/ inability to make decisions; retarded psychological/ intellectual development; suicidal thoughts; panic/ anxiety attacks; extreme identity confusion; Post-Traumatic Stress Disorder; insomnia/ nightmares; eating disorders; psychosomatic illness ( asthma, skin disorders, headaches, fatigue, etc.); sexual problems/ fear of forming intimate relationships; inability to trust; etc.
10). Repression of all dissent.
The leaders of the most-destructive cults are megalomaniacal psychopaths (i.e. suffering from a chronic mental disorder, especially when resulting in paranoid delusions of grandeur and self-righteousness, and the compulsion to pursue grandiose objectives). The unconditional deference of their deluded adherents only serves to confirm, and magnify, the leaders' own paranoid delusions. This type of cult leader maintains an absolute monopoly of information whilst perpetrating, and/or directing, evermore heinous crimes. They sustain their activities by the imposition of arbitrary contracts and codes (secrecy, denunciation, confession,justice, punishment, etc.) within their groups, and by the use of humiliation, and/or intimidation, and/or calumny, and/or malicious prosecution (where they pose as victims), and/or sophism, and/or the infiltration of traditional culture, and/or corruption, and/or intelligence gathering and blackmail, and/or extortion, and/or physical isolation, and/or violence, and/or assassination, etc., to repress any internal or external dissent.
___________________________________________________________________________________________
On September 8
th
2008, a decade after a series of familiar complaints were first filed, Judge Jean-Christophe Hullin (representing the people of the French Republic) finally signed the order for two American-controlled, French-registered corporate structures jointly to face a criminal charge of '
escroquerie en bande organisée'
(
literally,
'fraud in an organized gang'
). Judge Hullin also ordered that six current, and former, senior corporate officers of these structures should face the same criminal charge and other charges relating to the
'illegal operation of a pharmacy.'
At the outset of this ongoing affair, at the request of a defence attorney, certain of the plaintiffs were apparently persuaded by
an Investigating-Judge, Marie-Paul Moracchini,
to withdraw their criminal complaints. This was because of
procedural irregularities
i.e. the Judge had allowed a large quantity of confidential documentation to vanish
from a Paris Court House. Judge Moracchini had apparently
made the
'mistake' of leaving all the files relating to the case 'unattended on a table for a clerk to collect,' but without verifying that the clerk, in question, had received the message.
Although a criminal inquiry was pursued, and a likely thief identified, no charges were brought. Ironically, this was due to
lack of evidence.

Subsequently, after a typically-protracted judicial system internal inquiry, Judge Moracchini was officially found

to have not behaved improperly

and, consequently, she was not sanctioned.
However, these farcical proceedings don't explain why it then took a further decade before (what remained of) the original case was scheduled for trial. By 2009, this accident-prone prosecution - which certain commentators are convinced the French government wanted to disappear for reasons of Franco-American diplomacy - was considered to be so sensitive that the French Foreign Ministry felt it necessary to form a special team to deal with an expected deluge of international criticism.
The initial trial lasted over 3 weeks and 40 witnesses testified. When the verdict was delivered on
October 27th 2009
, although an echelon of defence attorneys had steadfastly pretended

their clients to be completely innocent of fraud, because they were being judged for their beliefs and not for their actions, whilst they had produced lots of satisfied clients and had voluntarily refunded the few dissatisfied clients,

the two corporate structures, and their respective officers, and former officers, were duly found guilty as charged. The structures were ordered to pay fines totalling 600 000 Euros (approximately $1.1 million).
Deeply-deluded cheat, Alain Rosenberg, attempted to obstruct a journalist from lawfully filming his exit from court. Rosenberg has exhibited classic symptoms of totalistic paranoia - genuinely believing that he is an innocent martyr being hounded for his 'religious beliefs.' In reality, core-'Scientologists' are programmed to believe a self-righteous, comic-book narrative which has been used as the false justification for countless crimes since the 1950s. In this unoriginal, pernicious, cultic game of make-believe,

high-level 'Scentology' initiates are a new Master-Race of morally, intellectually and physically superior humans who, alone, are engaged in a never-ending Holy-War against an invisible force of evil extra-terrestrials infesting the minds and bodies of inferior humans.
The most-senior officers, Alain Rosenberg and Sabine Jacquart, were each given two year suspended prison sentences and personally fined 30 000 Euros, whilst two others were given suspended prison sentences and (along with the remaining guilty party) personally fined lesser amounts.
The trial Judge, Sophie-Helene Chateau, explained that she had decided not to grant the State Prosecutors' original request for custodial prison sentences, because
the offenders had given undertakings that they would, henceforth, reform their activities.
Despite the remarkably-lenient sentence, t
he defence attorneys immediately filed an appeal and (completely ignoring the suffering of the plaintiffs) continued to invert established-reality by indignantly portraying their clients as
the victims of a witch-hunt.
The trial Judge
also explained that she was unable to grant the State Prosecutor's original request for the corporate structures to be closed-down without further delay. This was due to another unbelievable
'mistake.'
This time, a vital section of computer text had been
'cut, but not pasted'
by a ham-fisted clerk drafting proposed French legislation (enacted just before the case came to trial) which should have made it a simple matter of procedure to dissolve any French-registered corporate structure(s) proven to have been engaging in a chronic pattern of criminal activity. However, it had been feared that closure of these particular structures might very well have been counterproductive, in that the attempted prohibition of what they were peddling could have driven this criminal activity underground. Consequently, the outcome of the original trial was described by many well-informed commentators as
'intelligent.'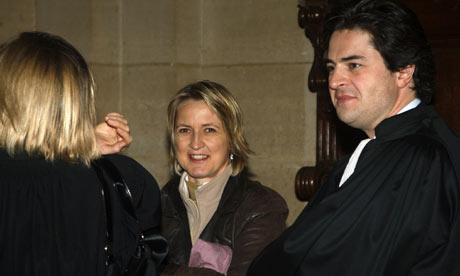 According to the evidence which made it to court, it was in May 1998, that a 33 year old hotel governess, Mme. Aude Claire Malton, was approached on her way home from work (outside the Opera metro station in
Paris)
by a group of friendly individuals. They had no authorization to be soliciting in the street and did not fully-identify themselves, but they invited her to
'agree to participate' in
(what they insisted was)
a

'Free Personality/Stress Test.'

Mme. Malton, who had never heard of

'Scientology'

and who had been suffering from depression (due to a relationship breakdown the previous year),
found herself unable to refuse, and she accompanied the individuals to an address in the rue Legendre. However, Mme. Malton's subsequent
'failure'
in the 'Test'
led to her becoming convinced that
she had significant problems which could only be resolved through the purchase of an exclusive, special offer 'Self-Betterment Course.'
She had, in fact, been deceived into allowing herself to
be subjected to coordinated devious techniques of social, psychological and physical persuasion (designed to identify vulnerable individuals, destabilise their self-esteem and provoke an infantile total dependence to the detriment of themselves).
In this way, Mme. Malton was given the illusion that
she was making free-choices,
but she was effectively-coerced into buying a collection of progressively more-expensive, but ultimately-worthless, publications, recordings, treatments, medicines, esoteric accessories, etc. Fortunately (with the help of her family), Mme. Malton was able to come to come to her senses, but not before she had parted with more than 20 000 Euros (some of which she had been advised to borrow by an individual who was presented as a
'Scientology financial consultant'
).
One of the most-outrageously over-priced single
'Scientology'
items (approximately 4000 Euros) is a handheld gadget, labelled
'E-meter'
(capable of detecting tiny fluctuations in natural, corporal electrical resistance), which countless victims
have been assured
i
s part of a 'proven technology' for measuring and improving the clarity and functioning of a person's mind and body.
The gang of high-pressure charlatans whom this unwary Frenchwoman had met, were from the
Paris
branch of a legally-registered, privately-controlled corporate structure, known as

'The
Church
of
Scientology Celebrity Centre
,'
ostensibly
'directed'
by Alain Rosenberg.
The pseudo-scientific paraphernalia Mme. Malton bought, was the just the start of a potentially-limitless advance fee fraud to which certain victims have been proven to have lost amounts totalling millions of dollars over periods spanning decades. These fraudulent materials were mostly supplied in
France
via another legally-registered, privately-controlled corporate structure, known as
'The
Church
of
Scientology Book Shop
.'
[Readers should note that, despite their misleading labels, neither of these ostensibly
'commercial/cultural'
corporate structures has any official 'religious' standing or privileges in France, where they have been required by law to disclose their financial activities and pay taxes on any net-earnings].
Sadly, this French prosecution is just one piece of a vast and confusing puzzle, because there are thousands more corporate structures around the globe
(some of which have obtained official
'religious/charitable'
standing and have been granted a tax-exempt status)
engaging in unlawful, and/or lawful enterprises, which comprise the pernicious cultic organization most-commonly referred to as
'
Scientology.'
These apparently
autonomous
'Scientology'
groups have their own paramilitary hierarchy of leaders who, in reality, answer to the organization's
supreme leadership.
When this typically-distracting tangle of Gordian Knots is ignored, and the wider-picture examined with intellectual rigour,
'Scientology'
sub-groups are revealed as the spokes of a rimless wheel, all obediently feeding cash (and intelligence) back to the central hub.
This vast corporate labyrinth is neither original nor unique; for t
he shifty
'Scientology'
edifice has been maliciously constructed to a well-known esoteric/hermetic pattern in order to prevent, and/or divert, investigation and isolate the organization's wealthy bosses (in the
USA
) from liability. By its very nature,'Scientology' never presents itself in its true colours. Consequently, no one ever becomes involved with the movement as a result of his/her fully-informed consent.
http://mlmtheamericandreammadenightmare.blogspot.fr/2012/05/racketeer-influenced-and-corrupt.html
The setting up (and sustaining) of such a criminogenic system is defined as a 'pattern of ongoing, major racketeering activity' by the US federal Racketeer Influenced and Corrupt Organizations Act , 1970 (clarified by subsequent US Supreme Court rulings).
Why the French authorities (who have access to a veritable mountain of evidence stretching back decades) did not file suit against the real bosses of 'Scientology' in the USA under RICO, is not such a mystery when one realises the unhealthy influence 'Scientology' has wielded over certain thoughtless officials at the US State Dept and US Internal Revenue Service.
The bosses of 'Scientology' are demonstrably committing fraud and obstructing justice, and are, thus, in flagrant violation of RICO, each time they steadfastly pretend to run the 'World's Fastest Growing Religion and Self-Betterment Movement, with 10 millions followers (including 45 000 in France).' In the adult world of quantifiable reality, the best available estimates (from democratically-accountable European government agencies
http://www.lermanet.com/cisar/germany/2005_05.htm
) reveal that, in total, there are currently far less than 150 000 core-'Scientologists' and that recruitment has been in steep decline for some time. Most people who are initially seduced by 'Scientology,' abandon the movement within a short period and without complaint. A significant minority (usually with access to independent funds) have remained enslaved for extended periods. It is this core-group of deluded proselytizers who perpetuate the organization, and who are (unconsciously) both victims and perpetrators of the abuse. Down the years, a growing number of courageous whistle-blowers have managed to face the ego-destroying reality that they were committing all-manner of crime by proxy, and they have faced all-manner of intimidation designed to silence their dissent. Indeed, many have been coerced into retracting their complaints. To date, for obvious reasons, the overwhelming majority of core-'Scientology' survivors have remained silent. When they first escape, former '

Scientologists'

are invariably destitute and suffering from chronic psychological deterioration symptoms - overwhelming feelings (guilt, grief, shame, fear, anger, embarrassment, etc.). Yet, interfering with witnesses to racketeering who wish to cooperate with law enforcement agencies (including the filing of malicious criminal complaints and civil lawsuits against them), is also a violation of RICO.
David Miscavige
Boss of the pernicious cult known as '

Scientology'
Reed Elliot Slatkin (without wig, 2003)
A while back, I was contacted by a former adherent of
'Scientology'
who, almost 10 years previously, had fallen victim to a Ponzi scheme ostensibly run out of Santa Barbara California by Reed Elliot Slatkin (married 2 children, b. 1949), a
'
Minister of the Church of Scientology
.'
My correspondent told me that he found it very difficult to believe (after reading black propaganda posted about me on the Net) that
'Amway's'
apologists have not received their training in how to destroy
critics
, from within
'Scientology'
.
I was directed to
http://www.slatkinfraud.com/index.php
. This is probably the largest body of accurate information available describing one the most-revealing, organized, financial crimes in 6 decades of shameful
'Scientology'
history.
Reed Elliot Slatkin circa 1995)
In 1986, Reed Slatkin (then aged 37, and whose involvement with
'Scientology'
already stretched back 23 years) began illegally to acquire control over a capital sum which he eventually would pretend
totalled approximately $600 millions.
This was achieved by him posing as
an ordinary man turned infallible capitalist superman – a wise 'Investment Club Manager' who (guided by the 'ethics and spiritual technology' of his 'religion') always returned substantial profits for his 'Club Members,' no matter what the overall trading conditions were.
Many of Slatkin's (ultimate) victims were wealthy, low-level
'Scientology'
initiates programmed to defer unconditionally to the imaginary
moral and intellectual authority of high-level initiates;
others were well-heeled
Hollywood
types.
Unfortunately, exactly like Bernie Madoff, Slatkin was nothing more than an economic
alchemist
- a once-penniless nobody: turned self-proclaimed
financial guru
who, despite the huge amount of cash he handled for (ultimately) 800 listed
'investors,'
was not even registered with the US Securities and Exchange Commission. Unlike Madoff, Slatkin completed many trades, but these were generally disastrous and his losses quickly grew to monumental proportions. At first glance, I assumed Slatkin to be a typical narcissistic charlatan who squandered his bedazzled victims' money on bedazzling toys, and who didn't have the beginnings of a clue what he was doing. However, I then discovered that Slatkin did not really display the trappings of wealth whilst many of the failing
'partner'
companies which he recklessly continued to pour his victims' money into, were created and run by his fellow core
-
'Scientologists'
(some of whom had previous convictions for fraud
http://www.slatkinfraud.com/companies_2.shtm

l
).
This aspect of the Slatkin affair immediately put me in mind of Mel Brooks' 1968 comedy film,
'The Producers,'
in which the two central characters,
'
Max Bialystok'
and '
Leo Bloom
,' stage a financially-suicidal
'Nazi'
-themed Broadway musical (
'Springtime for Hitler'
) in order to cheat their elderly (mostly Jewish widow)
'investors.'
Smiling Reed Slatkin, the perfect 'Scientology' family man

(

circa 1997)
During 15 years, Slatkin was extensively promoted by
'
Scientology'
propaganda as
a glowing example of the limitless prosperity, freedom, health and happiness which unquestioning adherence to the 'Church' brings.
Meanwhile,Slatkin
succeeded in maintaining an absolute monopoly of information about his own financially-suicidal tragicomedy - issuing countless fake
'account statements'
and actually paying out what he arbitrarily defined as
'profits'
to privileged
'investors'
by using authentic cash taken from fresh victims. In total,
he paid $279 millions to a group of persons who had apparently
originally given him a total of only $128 millions to invest.
In this way,
between
January 1st 1986
and
April 30th 2001
, Slatkin passed more than $151 millions of stolen funds to 75 (apparently
independent
) individuals many of whom were core
-'Scientologists.'
A second (slightly larger) group pocketed $44 millions. If we just take one example, Joel Kreiner,
'Scientology's'
primary tax attorney, received a whopping $5 866 583. (
http://www.slatkinfraud.com/trustee_report_75list.htm
http://www.slatkinfraud.com/75_final.htm
)
.
Well into this period, by chance, Slatkin became involved in the creation of a truly successful company, the Internet service provider, 'EarthLink Inc.' Sadly, this fluke only served to enhance his unwarranted reputation as
a
shrewd businessman on the cutting edge of technology.
Thus, drawing more victims into his pay-to-play game of make-believe. Evidently, 1986-2001, no agent of law enforcement ever asked Slatkin the one blindingly-obvious question which would have immediately revealed what he was doing:
'E
xcluding your own documentation, what quantifiable evidence can you produce to prove that your alleged
investment fund
has had any significant or sustainable source of revenue other than its own alleged
investors
?'
By the spring of 2001, the flow of cash was finally drying up. A few already mildly-critical victims
had begun to smell a rat when Slatkin (who couldn't pay them their fictitious
'profits,'
let alone refund their so-called
'investments'
)
began behaving strangely and stalling for time. He was now escorted by an echelon of aggressive bodyguards.
After failing to act on complaints for more than 12 months, the SEC finally strolled in - filing a civil enforcement action, freezing Slatkin's remaining assets. Simultaneously, the FBI executed criminal search warrants and quickly discovered that Slatkin's
miraculous, ever-growing 'investment fund'
was indeed a classic Ponzi scheme, without any significant or sustainable source of external revenue other than its victims. By this late stage, the bogus business was in deficit to the tune of $255 millions. Furthermore, the FBI found that Slatkin had gone to the most extraordinary lengths - including the creation of a fictitious
'
Swiss bank,
NAA Financial,'
- to conceal the truth, obstruct, and/or divert, the SEC investigation and continue to commit fraud.
Confronted with reality, Slatkin gave himself up, but when he was interviewed by SEC lawyers, much to their amazement (in response to a standard question about his educational qualifications, or rather lack of educational qualifications), he calmy explained that he was a
'Certified Dianetics Auditor',
and he treated them to a deeply-mystifying, extended lecture on his comic-book
'Scientology Beliefs and Ethics,'
recounting his 38 years in
'Scientology.'
Th
is
remarkable testimony included how Slatkin: