In 1945, whilst most, contemporary mainstream commentators were unable to look beyond the ends of their noses, with a perfect sense of irony, Eric Arthur Blair a.k.a.
'George Orwell'
(1903-1950) presented fact as
fiction
in an insightful
'fairy story'
entitled,
'Animal Farm.'
He
revealed that totalitarianism is merely the oppressors'
fiction mistaken for
fact
by the oppressed.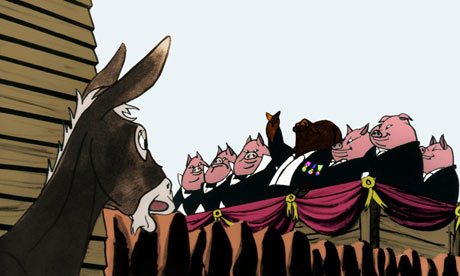 In the same universal allegory,
Orwell
described how, at a time of vulnerability,
almost any people's
dream of a future, secure, Utopian existence
can be hung over the entrance to a totalitarian deception. Indeed, the words that are always banished by totalitarian deceivers are,
'totalitarian' and '
deception.'
Sadly, when it comes to examining the same enduring phenomenon, albeit with an ephemeral
'Capitalist'
label, most contemporary, mainstream commentators have again been unable to look further than the ends of their noses. However, if they followed
Orwell's
example, and did some serious thinking, this is the reality-inverting nightmare they would find.
M
ore than half a century of quantifiable evidence, proves beyond all reasonable doubt that what has become popularly known as
'Multi-Level Marketing
'
is nothing more than an absurd, cultic, economic pseudo-science, and that the impressive-sounding made-up term
'MLM,'
is, therefore, part of an extensive, thought-stopping, non-traditional jargon which has been developed, and constantly-repeated, by the instigators, and associates, of various, copy-cat, major, and minor, ongoing organized crime groups (hiding behind labyrinths of legally-registered corporate structures) to shut-down the critical, and evaluative, faculties of victims, and of casual observers, in order to perpetrate, and dissimulate, a series of blame-the-victim closed-market swindles or pyramid scams (dressed up as
'legitimate direct selling income opportunites'),
and related advance-fee frauds (dressed up as
'legitimate training and motivation, self-betterment, programs,'
etc.)
.
____________________________________________________________________________________________
A number of correspondents have recently asked me:
Were you an 'MLM Distributor?'
The answer to the above frequently-asked question, is 'no,' but this article explains why I began to research, and to write about, blame-the-victim cultic racketeering in general, and so-called

'Multi-Level Marketing,'

in particular.