Since the days of Pele, Franz Beckenbauer and George Best, the USA has provided a lucrative stage for ageing international football (soccer) stars to extend their careers.
Most casual observers have taken little notice of computer-generated images of Steven Gerrard wearing a
'Herbalife'
sponsored Los Angeles Galaxy shirt appearing in the media during the last few months. However, the Internet is now alive with claims that 'Steven

Gerrard will use, or is already using, Herbalife products.'
http://soccerhacker.jp/iy9Wnc
Well-informed readers will be alarmed (but not surprised) to learn that the bosses of the

'Herbalife'

racket are in the process of acquiring yet another iconic (but evidently ill-informed) sports celebrity to shut-down the critical, and evaluative faculties, of their victims and of casual observers.
Most English-speaking Americans will probably not have heard of Steven Gerrard, who (at 34) is finally ending his illustrious, 17 year, 700+ appearances career at Liverpool football (soccer) club.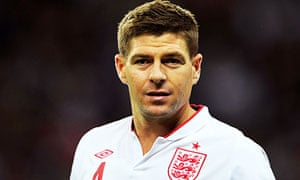 Many Spanish-speaking Americans will, however, know that Steven Gerrard has been one of the most famous, and popular, soccer players not only in Britain, but also internationally. He was selected for England 114 times, played in 3 World Cups and captained both his club and country.
Steven Gerrard (a practising Roman Catholic) has often said that, although he's earned millions, he loves his family, and his sport, far more than money.
Thus, I would like to ask Steven Gerrard what he knows about so-called

'MLM Income Opportunities'

in general, and about

'Herbalife'

in particular?, and
what would be his personal reaction if someone whom he loves, signed up for a so-called
'MLM Income Opportunity?'
One thing is certain, Steven Gerrard will not have been informed (by his new employers at LA Galaxy) that he's about to promote, and to accept money deriving from, an unlawful enterprise.
Yet

'Herbalife'

has been just part of a criminogenic phenomenon of historic significance which

has inflicted, and continues to inflict, serious financial, and psychological, damage on countless millions of vulnerable people around the world. M
ore than half a century of quantifiable evidence, proves beyond all reasonable doubt that what has become popularly known as
'Network,'
or
'

Multi-Level, Marketing

'
is nothing more than an absurd, cultic, economic pseudo-science, and that the impressive-sounding made-up term
'MLM,'
is, therefore, part of an extensive, thought-stopping, non-traditional jargon which has been developed, and constantly-repeated, by the instigators, and associates, of various, copy-cat, major, and minor, ongoing organized crime groups (hiding behind labyrinths of legally-registered corporate structures) to shut-down the critical, and evaluative, faculties of victims, and of casual observers, in order to perpetrate, and dissimulate, a series of blame-the-victim closed-market swindles or pyramid scams (dressed up as
'legitimate direct selling income opportunites'
)
,
and related advance-fee frauds (dressed up as
'legitimate training and motivation, self-betterment, programs, leads,' etc.).
Meanwhile in adult world of quantifiable reality, the bosses of the
'Herbalife'
racket have bought, and continue to buy, association with professional sports teams and stars in order to continue to commit fraud and to prevent their victims from facing reality and complaining. Sadly, when the wider-evidence is examined, the co-opting of England's own Steven Gerrard forms yet another part of an overall pattern of ongoing major racketeering activity as defined by the US federal Racketeer Influenced and Corrupt Organizations Act, 1970.
David Brear (copyright 2015).