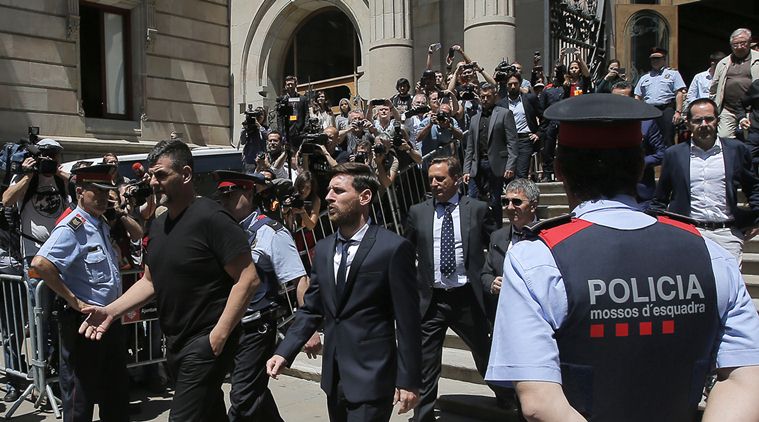 With an irony close to exquisite,
'Herbalife'
useful idiot, Lionel Messi, has been convicted of, and sentenced to 21 months in prison for, tax fraud. Although the case is apparently to be appealed through the Spanish Supreme Court.
Jorge Messi
Lionel Messi's father, Jorge Messi, was handed the same 21 month jail sentence for defrauding Spain of €4.1m between 2007 and 2009. The pair
were found guilty of three counts of tax fraud by a court in Barcelona.
Messi and his father face millions of euros in further fines and penalties for employing tax havens in Belize and Uruguay to stash $
multi-millions earnings from image rights. Yet
, even if their appeal fails, neither man is expected to serve any time behind bars; for u
nder the current Spanish judicial system, prison terms of less than two years can be served on probation.
Lionel Messi has
already been fined about €2m and his father €1.5m. They made a voluntary €5m 'corrective payment' (the unpaid tax plus interest), in August 2013.
During the trial, Lionel Messi insisted that
he 'knew nothing' about the management of his financial affairs,
claiming that
his father dealt with all such matters while he was 'playing football'.
However, Jorge Messi claimed
he was incapable of organising such a fraud
. He insisted that
his own tax consultants were to blame.
Lionel Messi (estimated wealth
€200 millions
)
quite obviously doesn't give a shit when it comes to stealing from ordinary people, and it is not difficult to imagine what he (and his dear old dad) will have to say about his
'Herbalife' paymasters when they
finally get held to account.
David Brear (copyright 2016)