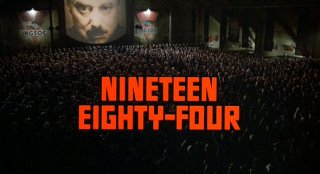 '
The purpose of Newspeak was not only to provide a medium of expression for the world-view and mental habits proper to the devotees of Ingsoc, but to make all other modes of thought impossible. It was intended that when Newspeak had been adopted once and for all and Oldspeak forgotten, a heretical thought - that is, a thought diverging from the principles of Ingsoc - should be literally unthinkable, at least so far as thought is dependent on words. Its vocabulary was so constructed as to give exact and often very subtle expression to every meaning that a Party member could properly wish to express, while excluding all other meanings and also the possibility of arriving at them by indirect methods. This was done partly by the invention of new words, but chiefly by eliminating undesirable words and by stripping such words as remained of unorthodox meanings, and so far as possible of all secondary meanings whatever.'
Georges Orwell (Appendix to 'Nineteen Eighty-Four')
The purpose of
'MLM Income Opportunity'
jargon is not only to provide a medium of expression for the unquestioning
world-view and mental habits proper to the core-adherents of
'MLM'
groups,

but to make all other
critical and evaluative
modes of thought impossible. It is intended that when

'
MLM Income Opportunity'
jargon has been adopted once and for all and traditional language forgotten, a heretical thought - that is, a thought diverging from the
'positive'
principles of
'MLM' -
should be literally unthinkable, at least so far as thought is dependent on words. Its vocabulary is so constructed as to give exact and often very subtle expression to every
'positive'
meaning that an
'MLM Distributor'
can properly wish to express, while excluding all other
'negative
'

meanings and also the possibility of arriving at them by indirect methods. This is done partly by the invention of new
'positive'
words and phrases ('Herbalife', 'Amway', 'NuSkin', 'Xango',

'Multi-Level Marketing', 'Distributor' , Independent Business Owner,

'

), but chiefly by eliminating undesirable
'negative'
words and phrases ('cult', 'totalitarian', 'fraud', 'deception', 'brainwashing', 'victims', 'exploitation' , 'de facto slaves') and by stripping such words and phrases as remain of unorthodox meanings, and so far as possible of all secondary meanings whatever.
This document (linked below) contains a point by point comparison of the actual contents of the recent FTC vs 'Herbalife' ruling with the reality-inverting propaganda broadcast by the 'Herbalife' Ministry of Truth.
http://assets.pershingsquareholdings.com/2014/09/Pershing-Square-Capital-Management-L.P.-Q2-Conference-Call-Presentation.pdf
Laughably, rather than 40-odd pages of text, the latest painfully-predictable

'positive'

chapter of the

'Herbalife'

fairy story could have been perfectly summed up in just one Orwellian slogan:
DEFEAT IS VICTORY
Seeing as these carefully-worded distortions of the truth were fed to the media, and led to a temporary rise in the market price of effectively-valueless

'Herbalife'

shares, presumably, Bill Ackman and his associates have filed further criminal complaints against the authors of the

'Herbalife'

fairy story with the Securities and Exchange Commission. Hopefully, they will have also pointed out to the Federal Trade Commission that this stream comic-book drivel is not only in flagrant breach of the settlement which

'Herbalife's'

Big Brothers

have signed, but also demonstrative of their utter contempt for the law.
David Brear (copyright 2016)