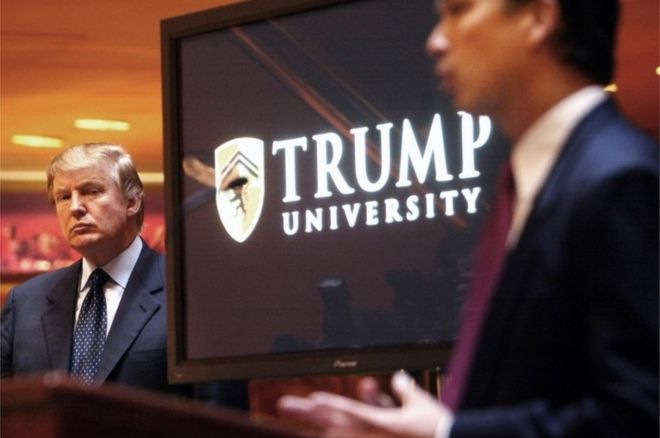 Donald Trump was being sued by more than 6000 victims whom he'd conned into handing over up to $35 000 (£28 000) each in exchange for what he falsely-described as
'real estate secrets taught by his own hand-picked instructors.'
Previously, Mr Trump had repeatedly lied to US electors by boasting
he would never settle these class-action lawsuits, because he was completely innocent and was, therefore, easily going to win them.
New York Attorney General, Eric Schneiderman, has described this development as 'a stunning reversal by Donald Trump and a major victory for the victims of his fraudulent university.'
Predictably, Trump's lead attorney, Daniel Petrocelli is now pretending that
his client is pleased with the outcome,
saying
'he was willing to sacrifice his personal interests, to put this behind him, and move forward.'
Trump faced three lawsuits - two in California and one New York. One of the California suits accused him of racketeering.
The trial in the first (non-racketeering) California case had been due to begin in San Diego federal court on November 28th.
Mr Schneiderman, whom Mr Trump has attempted to character assassinate, had sought $40 millions to compensate victims of the fake university which was forced to close in 2010. Earlier this year, Schneiderman described Trump's operation as
a 'fraud from beginning to end... preying on desperate people.'
At no stage has Donald Trump expressed the slightest concern for any of the plaintiffs in these cases. Indeed he has posed as the victim himself, despite the fact that he personally pocketed around $5 millions.
At first glance, perhaps the most astonishing aspect of these matters, is the fact that Trump was never arrested and has not faced criminal prosecution, but then, even though it bore his name as bait, the
'Trump University'
advance fee
fraud was deliberately set up behind a Mafia-style front of legally-registered corporate structures designed to prevent, and/or divert, investigation, and isolate Boss Trump from criminal liability. Yet this type of criminogenic system is exactly what the US federal Racketeer Influenced and Corrupt Organisations Act, 1970, was originally drafted to tackle.
David Brear (copyright 2016)