In 1945, whilst most, contemporary mainstream commentators were unable to look beyond the ends of their noses, with a perfect sense of irony, Eric Arthur Blair a.k.a.
'George Orwell'
(1903-1950) presented fact as
fiction
in an insightful
'fairy story'
entitled,
'
Animal Farm.'
He
revealed that totalitarianism is merely the oppressors'
fiction mistaken for
fact
by the oppressed. In the same universal allegory,
Orwell
described how, at a time of vulnerability,
almost any people's
dream of a future, secure, Utopian existence
can be hung over the entrance to a totalitarian deception. Indeed, the words that are always banished by totalitarian deceivers are,
'totalitarian' and '
deception.' Sadly, when it comes to examining the same enduring phenomenon, albeit with an ephemeral
'Capitalist'
label, most contemporary, mainstream commentators have again been unable to look further than the ends of their noses. However, if they followed
Orwell's
example, and did some serious thinking, this is the reality-inverting nightmare
they would find.
________________________________________________________________________
Stuart Pfeifer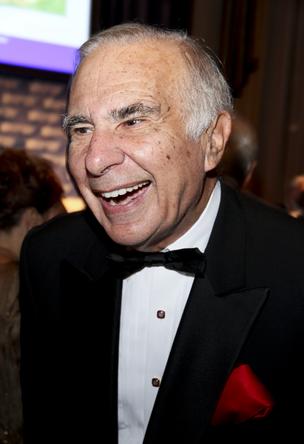 Carl Icahn
In a recent article by Stuart Pfeifer of the Los Angeles Times, Carl Icahn is reported as having sarcastically thanked Bill Ackman for allowing him to make a quarter of a billion dollars though buying (and, therefore, presumably selling) shares in the legally-registered corporate structure known as
'Herbalife (HLF).'
Mr. Icahn's profitable trade came in the wake of Mr. Ackman's public accusation (December 2012) that

'Herbalife'

is a fraudulent and, therefore, effectively-valueless, company, coupled with Mr. Ackman's public declaration that he had, consequently, acquired a short-selling position against

'Herbalife'

(on behalf of his own company, Pershing Square Capital) involving $1.2 billion.
Mr. Ackman's presentation of a detailed evidence-based analysis of the exploitative, hybrid pyramid/snake-oil selling scam which has lurked behind the reality-inverting

'Herbalife/direct selling'

propaganda, initially produced a steep decline in the demonstrably-fraudulent company's artificially-inflated share value. However, the failure of US regulators to take immediate action has allowed the

'Herbalife'

racket to continue.
Seeing an opportunity to make easy money, during 2013, Mr. Icahn bought 16% of the '

Herbalife'

racket's collapsing corporate front which he has helped artificially to re-inflate by publicly attacking Mr. Ackman's integrity whilst steadfastly pretending that

all the accusations against 'Herbalife' are 'pre
posterous'.

Tellingly, at no stage during this ongoing Wall Street saga has Mr. Icahn offered the slightest explanation as to why he believes Mr. Ackman's analysis of

'Herbalife'

to be inaccurate
Self-evidently, it has been largely through Mr. Icahn's own much-publicised, but unqualified, support for the '

Herbalife'

racket that he has been able to make quarter of a billion dollars. In other words, whilst federal regulators have failed to protect the public, a billionaire corporate raider has quite literally bought the power to maintain or destroy not just just the

'Herbalife'

racket, but also the entire, criminogenic phenomenon of '

MLM income opportunity'

racketeering. So far, apparently motivated purely by greed, Mr. Icahn has chosen to maintain it, for there is no way that he can be completely unaware of what has been lurking behind the so-called

'MLM/direct selling industry.'
David Brear (copyright 2013)