Warning
M
ore than half a century of quantifiable evidence, proves beyond all reasonable doubt that what has become popularly known as
'Multi-Level Marketing
'
is nothing more than an absurd, cultic, economic pseudo-science, and that the impressive-sounding made-up term
'MLM,'
is, therefore, part of an extensive, thought-stopping, non-traditional jargon which has been developed, and constantly-repeated, by the instigators, and associates, of various, copy-cat, major, and minor, ongoing organised crime groups (hiding behind labyrinths of legally-registered corporate structures) to shut-down the critical, and evaluative, faculties of victims, and of casual observers, in order to perpetrate, and dissimulate, a series of blame-the-victim closed-market swindles or pyramid scams (dressed up as
'legitimate direct selling income opportunites')
,
and related advance-fee frauds (dressed up as
'legitimate training and motivation, self-betterment, programs, recruitment leads, lead generation systems,'
etc.)
--------------------------------------------------------------------------------------------------------------------------
Decades too late, the US Federal Trade Commission had finally twigged (after being gently kicked up the arse by US consumer groups and short-sellers who encouraged more than 1000 destitute 'Herbalife' victims to come forward) that, contrary to what flocks of grinning 'MLM' bosses, and their propagandists, have always pretended, virtually no members of the general public have ever been regularly buying

'MLM'

wampum (based on value and demand). In reality, for decades, countless millions of temporarily-deluded

'MLM'

adherents have been handing over their time and money to

'MLM'

front-companies in the false-expectation of future reward. In this way, many billions of dollars of unlawful losing-investment payments into hundreds of copy-cat blame-the-victim, closed-market cultic swindles have been laundered as

lawful sales (based on value and demand).
The above irrefutable analysis was given to regulators by myself (and others) many years ago, but this tragicomic reality has remained almost unthinkable until very recently.
Even the mainstream US media (albeit in the shape of the fearless British satirist, John Oliver) has finally begun to expose the enormity, and totalitarian cultic nature, of the

'MLM'

lie.
In theory, if the

'HLF'

racketeers recite the pernicious 'MLM' fairy story anywhere, the

'HLF'

US front company can now be closed. The FTC had even implied that the

'HLF'

ruling was going to be extended to the entire 'MLM' phenomenon.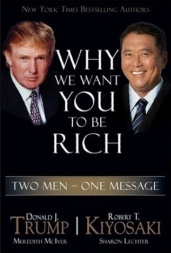 In practise, Edith Ramirez' days at the FTC are now almost certainly numbered; for a
notorious
'MLM'
pitchman/parasite, Donald Trump, will soon have the power to appoint the Chair of the FTC as well as many other key federal officials (including the US Attorney General).
Manifestly, government of the people, by the people, for the people, has now perished from the Earth. The USA will soon (quite literally) have a government of racketeers, by racketeers, for racketeers.
Ironically, had senior US regulators and law enforcement agents, previously done their jobs, and held the likes of Donald Trump to account, he would never have been in a position to run for public office.
http://nymag.com/news/crimelaw/66468/
Somewhere in the dark recesses of Buntner prison N. Carolina, Bernie Madoff must be kicking himself for not thinking of running for US President.
Meanwhile, President-elect Trump has been a party in around 4,000 lawsuits over the last 30 years and is currently facing 75 active lawsuits (according to USA Today).
The most embarrassing are several lawsuits concerning the so-called 'Trump University,' which centre on victims who were led to believe the strangely-familiar fairy story that :
Billionaire
philanthropist,
Donald Trump wants to help ordinary people to achieve the American dream and is, therefore, prepared to share his secrets of how to make money in real-estate (in exchange for $34 thousands).
Since
these suits were already filed, no presidential immunity statutes will apply and President Trump will be obliged to attend court if required.
The biggest civil fraud suit was filed in 2010. Low v

Trump University;

it is set to commence on November 28th in San Diego.
Trump's attorneys have now asked for the trial to be delayed until next year, because their client needs time to work on the transition to the presidency. They have also indicated that Trump is open to negotiating a financial settlement.
Previously, Trump had ignored his victims' suffering and accused the judge, Gonzalo Curiel, of having

'an inherent conflict of interest,'

because he was born to Mexican parents.
A second civil suit, Cohen v Trump, also filed in San Diego, alleges Trump's so called

'school'

was really a front for a criminal organisation as defined by the Racketeer Influenced and Corrupt Organisations Act.
Attorneys are still arguing over what evidence can be allowed and a trial date hasn't yet been set.
A third case filed in New York in 2013, alleges Trump's so-called

'University'

stole
a total of $40 millions (£32 millions) from New Yorkers by means of fraud.
A judge ruled last March that the case would go to trial, but Trump has appealed.
David Brear (copyright 2016)