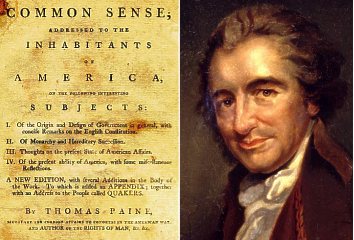 '
Government, even in its best state, is but a necessary evil; in its worst state, an intolerable one.'
In view of the reality-inverting tragicomedy which is currently unfolding in the United States of America (where the unfinished rational experiment of government of the people, by the people and for the people has evidently been temporarily suspended), Blog readers are invited to read the once-radical thoughts of my fellow Englishman, Tom Paine (1737-1809).
_________________________________________________________________________
COMMON SENSE;
INHABITANTS
AMERICA,
On the following interesting
---
---
---
---
PHILADELPHIA
Printed and sold by W. & T. Bradford, February 14, 1776.
---
MDCCLXXVI
---
Common Sense
By Thomas Paine
AUTHOR
P.S. The Publication of this new Edition hath been delayed, with a View of taking notice (had it been necessary) of any Attempt to refute the Doctrine of Independance: As no Answer hath yet appeared, it is now presumed that none will, the Time needful for getting such a Performance ready for the Public being considerably past.
---
Dragonetti on virtue and rewards."
£
[pounds
sterling]
For a ship of
100
guns
=
35,553
90
=
29,886
80
=
23,638
70
=
17,785
60
=
14,197
50
=
10,606
40
=
7,558
30
=
5,846
20
=
3,710
Ships.
Guns.
Cost of one.
Cost of all.
Cost in £ [pounds sterling]
6
100
35,553
213,318
12
90
29,886
358,632
12
80
23,638
283,656
43
70
17,785
764,755
35
60
14,197
496,895
40
50
10,606
424,240
45
40
7,558
340,110
58
20
3,710
215,180
85
Sloops, bombs
and fireships, one
with another, at
}
2,000
170,000
------------
Cost
3,266,786
Remains for Guns
233,214
------------
3,500,000
---
---
---