I've been asked if I could re-post my analysis of Reed Slatkin's 'Long Con.'




Reed Slatkin is an example of a deeply-deluded individual who was both victim and perpetrator of a 'Long Con.'




A 'Long Con' is a form of fraud maliciously designed to exploit victims' existing beliefs and instinctual desires and make them falsely-believe that

they are exercising a completely free-choice.


'Long Cons' comprise

an enticing structured scenario of control that is acted out as

reality

over an extended period. Like theatrical plays, 'Long Cons' are written, directed and produced. They involve leading players and supporting players as well as props, sets, extras, costumes, script, etc. The hidden objective of 'Long Cons' is to convince unwary persons that fiction is

fact

and fact is

fiction,

progressively cutting them off from external reality.

In this way, victims begin unconsciously to play along with the controlling-scenario and (in the false-expectation of future reward) large sums of money or valuables can be stolen from them. Classically, the victims of 'Long Cons' can become deluded to such an extent that they will empty their bank accounts, and/or borrow from: friends, family members, etc.




Reed Elliot Slatkin (2003)
When I first started my Blog, I was contacted by a former adherent of

'Scientology'

who told me that, several years previously, he had fallen victim to a 'Long Con' ostensibly run out of Santa Barbara California by Reed Elliot Slatkin (1949-2015), a

'Minister of the Church of Scientology
.'
I was directed to
www.slatkinfraud.com/index.php
.
Reed Slatkin (circa 1995)
Somewhere around 1985-1986, Reed Slatkin (then aged 36, and whose involvement with

'Scientology'

already stretched back 24 years) began illegally to acquire control over a capital sum which he eventually would pretend

totalled almost $600 millions

.
This was achieved by him posing as an ordinary man turned infallible capitalist superman – a wise 'Investment Club Manager' who (guided by the 'ethics and spiritual technology' of his 'religion') always returned substantial annual profits (around 25%) for his 'Club Members,' no matter what the overall trading conditions were.
Many of Slatkin's victims were wealthy, low-level

'Scientology'

initiates programmed to defer unconditionally to the imaginary moral and intellectual authority of high-level initiates; others were well-heeled
Hollywood
types.
Unfortunately, exactly like Bernie Madoff, Slatkin was nothing more than an economic alchemist - a once-penniless nobody: turned self-proclaimed

financial guru

who, despite the huge amount of cash he handled for (ultimately) 800+ listed

'investors,'

was not even registered with the US Securities and Exchange Commission. Unlike Madoff, at first Slatkin completed trades, but these were generally disastrous and his losses quickly grew to monumental proportions. For while, Slatkin did not display the trappings of wealth. Many of the failing 'partner' companies which he recklessly continued to pour his victims' money into, were created and run by his fellow core-'

Scientologists'

(some of whom had previous convictions for fraud
www.slatkinfraud.com/companies_2.shtm

l
).
This tragicomic aspect of the Slatkin saga immediately put me in mind of Mel Brooks' 1968 comedy film,
'The Producers,'
in which the two central characters, '
Max Bialystok'
and '
Leo Bloom
,' run a 'Long Con' by staging a financially-suicidal
'Nazi'
-themed Broadway musical (
'Springtime for Hitler'
) in order to cheat their elderly (mostly Jewish widow)
'investors.'
During 15 years, Slatkin and his family were extensively promoted by

'Scientology'

propaganda as

a glowing example of the limitless prosperity, freedom, health and happiness which unquestioning adherence to the 'Church' brings.
Meanwhile, Slatkin succeeded in maintaining an absolute monopoly of information about his criminal enterprise - issuing countless fake 'account statements' and actually paying out what he arbitrarily defined as 'profits' to privileged '

investors'

by using authentic cash taken from fresh victims. In total, Slatkin
paid $279 millions to a group of persons who (on paper) had

originally given him a total of only $128 millions to invest.
In this way, between
January 1st 1986
and
April 30th 2001
, Slatkin passed more than $151 millions of stolen funds to 75 (apparently

independent

) persons many of whom were core-'Scientologists.' A second (slightly larger) group pocketed $44 millions. If we just take one example, Joel Kreiner,

'Scientology's'

primary tax attorney, received a whopping $5 866 583.
Well into this period, by chance, Slatkin became involved in the launch of a truly successful company, the Internet service provider, 'EarthLink Inc.' Sadly, this fluke only served to enhance his unwarranted reputation as a
shrewd businessman on the cutting edge of technology.
Thus, drawing more victims into his pay-to-play game of make-believe. Even though Slatkin's initial $75 000 investment in 'Earthlink' soon leapt to more the $100 millions (when the company went public), this did not cover, and wasn't connected to, his other trading losses. Evidently, 1986-2001, no agent of law enforcement ever asked Slatkin the one blindingly-obvious question which would have immediately revealed what he was doing:
'E
xcluding your own documentation, what quantifiable evidence can you produce to prove that your alleged investment fund has had any significant or sustainable source of revenue other than its own alleged investors?'
By the spring of 2001, the flow of fresh cash seemed to be finally drying up. A few victims
had begun to smell a rat when Slatkin (who couldn't pay them their fictitious
'profits,'

let alone refund their so-called '

investments'
) began behaving strangely and stalling for time. He was now escorted by an echelon of aggressive bodyguards. One of Slatkin's victims who had handed over $15 millions, lost patience and filed suit. As a result, part of Slatkin's assets were frozen. By this stage,no one believed his lies and (bombarded with more lawsuits and demands for payment), he filed for bankruptcy.
http://articles.latimes.com/2001/may/02/business/fi-58222
It turned out that the SEC had been investigating Slatkin off and on since 1997 (because he wasn't registered with SEC), but officials had swallowed his comic-book lies, and documents, and failed to take any decisive action. They'd been led to believe that Slatkin was

in the process of closing his business.
It wasn't until later in 2001, that the SEC finally strolled in - filing a civil enforcement action, freezing Slatkin's remaining assets. Simultaneously, the FBI and IRS executed criminal search warrants and immediately discovered that Slatkin's
miraculous, ever-growing 'investment fund'
was indeed a classic Ponzi scheme, without any significant or sustainable source of external revenue other than its victims. By this late stage, the bogus business was in deficit to the tune of $255 millions. Furthermore, the FBI found that Slatkin had gone to the most extraordinary lengths - including the creation of a fictitious

'
Swiss bank,
NAA Financial,'
- to conceal the truth, obstruct, and/or divert, the limp SEC investigation and continue to commit fraud.
http://www.lermanet.com/scientologynews/esquire-slatkin.htm
In October 2001, a major article appeared in 'Esquire Magazine.' This revealed that
when Slatkin had previously been interviewed by SEC lawyers, much to their amazement, in response to a standard question about his educational/professional qualifications (or rather lack of qualifications), he calmy explained that he was a '

Certified Dianetics Auditor'

and he treated them to a deeply-mystifying, extended-lecture on his
'Scientology Beliefs and Ethics,'
recounting his 38 years in
'Scientology.'
This remarkable testimony included how Slatkin:
- (as a 14 year old boy in 1963) was recruited into the organisation by his uncle, after the sudden death (by suicide) of his father.
L. Ron Hubbard playing the Lord of Saint Hill Manor
- (before graduating from High-School) travelled to the
UK
to study 'Spiritual Technology' at Saint Hill Manor under L. Ron Hubbard himself.
- (in his late teens) was involved in the setting up of Hubbard's 'Sea Organization' in
Scotland
, but was deported from the
UK
, and his passport confiscated, when the
UK
Minister for Health declared 'Scientology' to be a public danger.
During his SEC deposition, Slatkin (without the slightest embarrassment) proudly recited from the comic-book

'Scientology'

fiction as though it was

fact;

demonstrating that he was still the deluded de facto agent of its authors. However, during his trial (more than 2 years later) his lawyer stated that it had taken a while to 'deprogram' his client, but now Slatkin accepted that he'd been acting under the influence of 'Scientology.'
On September 2nd 2003, after pleading guilty to mail fraud, wire fraud, money laundering and obstructing justice, Slatkin was sentenced (by California Judge, Magaret Morrow), to serve 14 years in a federal prison. Although

'Scientology's'

attorneys subsequently maintained that Slatkin's explanation of his behaviour was rejected out of hand by Judge Morrow, she actually felt obliged to state before sentencing that:
'The Court does not discount the importance of the Church ('Scientology') in his (Slatkin's) life and that it colored his judgement.'
During the trial, and sentencing, a claque of

'
Scientologists'
in civilian dress had queued to be first into the courtroom. They all smirked and sneered and giggled in unison, acting as though
Slatkin's attorney was a crazy conspiracy theorist,
each time he had made the slightest reference to his client being programmed. A highly-convenient witness (and long-time
'Scientologist'
) Daniel W. Jacobs (b. 1946), testified (under oath) that
Slatkin had met with him in a restaurant in 2001 and openly boasted about having:-
- millions of dollars stashed away in gold, art works, etc.
- a plan to 'implicate Scientology.'
Jacobs (who described himself as a
'financial consultant'
) had, in fact, made a prior agreement with the prosecution. In return for his co-operation and guilty plea, he would receive a derisory 4 month prison sentence for conspiracy to obstruct the SEC investigation. Jacobs admitted that, for 12 months, he had posed as a
representative
of Slatkin's fictitious
'Swiss Brokerage.'
He had assisted in the production of fake
'Swiss account statements'
and the running of fake
'Swiss telephone numbers,'
all of which were designed to fool victims and regulators into believing that
a reputable overseas financial institution held hundreds of millions of dollars of missing cash.
Tellingly, Slatkin's alleged
stash
has never been traced, and (in direct contradiction to Jacob's statement) the quantifiable evidence proved that Slatkin had paid $1.7 million of his ill-gotten gains directly to
'
Scientology'
front-groups, and that he had facilitated the channelling (via favoured
'investors'
who were
'Scientologists'
) of an unspecified amount of stolen money to corporate structures affiliated to
'Scientology.'
Indeed, in November 2008, it was reported that a
'Scientology'
attorney, David Schindler, had
'negotiated a compromise'
with Alexander Pilmer, an attorney acting for Slatkin's bankruptcy trustee, R. Nodd Nielson, in which
'Scientology'
agreed to pay back $3.5 millions to victims. After being in receipt of bundles of cash for 15 years (apparently
in total ignorance that it was stolen
), the leadership of
'Scientology'
suddenly pronounced the
'Excommunication'
of Slatkin, and all the many references to him as
a glowing example of a 'Scientology' success story,
were removed from the organization's
propaganda.
To date, no further investigation has been pursued against the leadership of
'Scientlogy'
by the
US
authorities regarding this affair. The buck stopped with Slatkin and five associates, even if the bucks didn't.
60% of what Slatkin stole, has never been returned to his victims.
I'd like to thank Robert Fitzpatrick (President of Pyramid Scheme Alert) for drawing my attention to the fact that Ms. Joan 'Jodie' Bernstein (Director of Consumer Protection at the Federal Trade Commission, 1997-2002) was solicited by the St. Louis-based law firm, Bryan Cave LLP, and that (in her new, much more highly-paid capacity) she then enthusiastically lied to her former colleagues at the FTC on behalf of the bosses of

'Amway'

cultic racket

- arguing that

there was no need for government regulation of her client in particular, and

of 'Multi-Level Marketing' in general.
It will probably come as no surprise to readers to learn that
Bryan
Cave LLP has also defended Reed Slatkin. Indeed, the late Mr. Gerald Boltz (a former Securities Exchange Commission Administrator) was also solicited by Bryan Cave LLP, and (in his new, much more highly-paid capacity) he then enthusiastically lied to his former colleagues at the SEC on behalf of Reed Slatkin, arguing (at the beginning of 2000) that
there was no need to file a civil enforcement action to freeze his client's remaining assets.
http://www.slatkinfraud.com/depo_jan.htm
In 2003, it was reported that Reed Slatkin's bankruptcy trustee, R. Todd Neilson (a former FBI agent) had complained to US Bankruptcy Judge, Robert Riblet, that Gerald Boltz and his associates at Bryan Cave LLP had deliberately mishandled Slatkin's case and, thus, permitted hundreds of individuals to continue to lose their money. Neilson argued that Boltz (as a former top SEC lawyer) should have immediately deduced that Slatkin was running a Ponzi scheme, but (inexplicably) he did not.
Bryan Cave LLP subsequently filed a 'tentative settlement' with the US Bankruptcy Court, in which the law firm denied any wrongdoing, but (all the same) offered to pay Slatkin's trust $650 thousands to be distributed to its creditors. Limply,
Bryan
Cave LLP (a firm that promotes itself as being
expert in financial fraud
) posed as a
wide-eyed victim totally deceived by Slatkin's fake documentation.
In any event, Gerald Boltz' amoral defence was that,
as Slatkin's counsel, his duty was to his
client: not to his client's 'investors.'
For a while, in another obvious attempt to obstruct justice, a
'Scientology'
agent called
Bennetta Slaughter, tried to create a fake
association to
'represent Slatkin's investors'
http://www.slatkinfraud.com/slaughter.php. Immediately after his trial
, Slatkin's mystifying labyrinth of lies was so vast that it was still in process of being partially dismantled by Alexander Pilmer, the attorney acting for R. Todd Neilson. At this time, hundreds of Slatkin's (ultimate) victims were owed around $240 millions, and more than 200 lawsuits had been filed to recover money from corporate structures and individuals who had profited directly from Slatkin's crimes. However, Pilmer was also in negotiation with attorneys acting for another (even more-mystifying) labyrinth of lies. The leadership of
'Scientology'
had profited indirectly from Slatkin's crimes - receiving an unspecified number of payments (arbitrarily defined as
'donations'
) via an unspecified number of corporate structures (arbitrarily defined as
'non-profit-making organisations'
) and from around 75 individuals who
headed the list of
'Scientologists'
who had profited directly. For obvious reasons, Pilmer requested that all these
'donations'
to
'Scientology Groups'
(allegedly totalling many tens of millions of dollars) should be immediately declared and returned. After 5 years of wrangling
,
'Scientology'
coughed up a mere $3.5 millions, but this included $1.7 millions that Slatkin
'donated'
himself.
To this day, it is not known exactly how much of the unlawful profits from the Slatkin
'Long Con'
ended up with the leadership of
'Scientology.'
However, many obvious questions have (apparently) never been asked by law enforcement agents - principally:
Since, out of the group of core
-
'Scientologists'
who (over a period of 15 years) were proved to have received a total of $151 millions stolen by Slatkin (arbitrarily defined as
'
profits on investments'
), a significant number were from the so-called
'Sea Organisation'
who are paid just $50 per week, where exactly did certain
pious
members of this
poor 'Scientology Religious Order'
suddenly acquire the odd quarter of a millions dollars (in cash) to
'invest'
with Slatkin in the first place?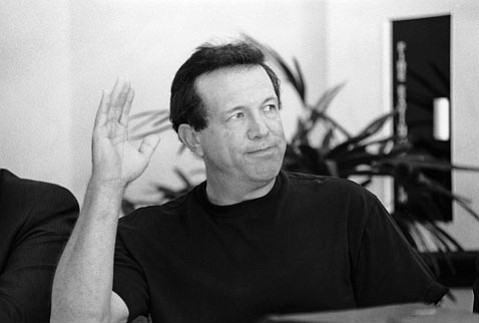 Reed Slatkin 2013
www.independent.com/news/2013/feb/28/ponzi-king-due-back-slammer/
It has been variously reported on Sites which monitor

'Scientology,'

that Reed Slatkin died of a heart attack in either 2013 or 2015 and that this has been confirmed by his ex-wife and verified with official records. For some mysterious reason, it seems that the death of one of history's largest Ponzi schemers has never been reported by the mainstream media.
https://en.wikipedia.org/wiki/Reed_Slatkin
According to Wikipedia, Slatkin died June 23rd, 2015 aged 66.
Again, Wikipedia gives no reference to any mainstream media report of Slatkin's death.
David Brear (copyright 2018)