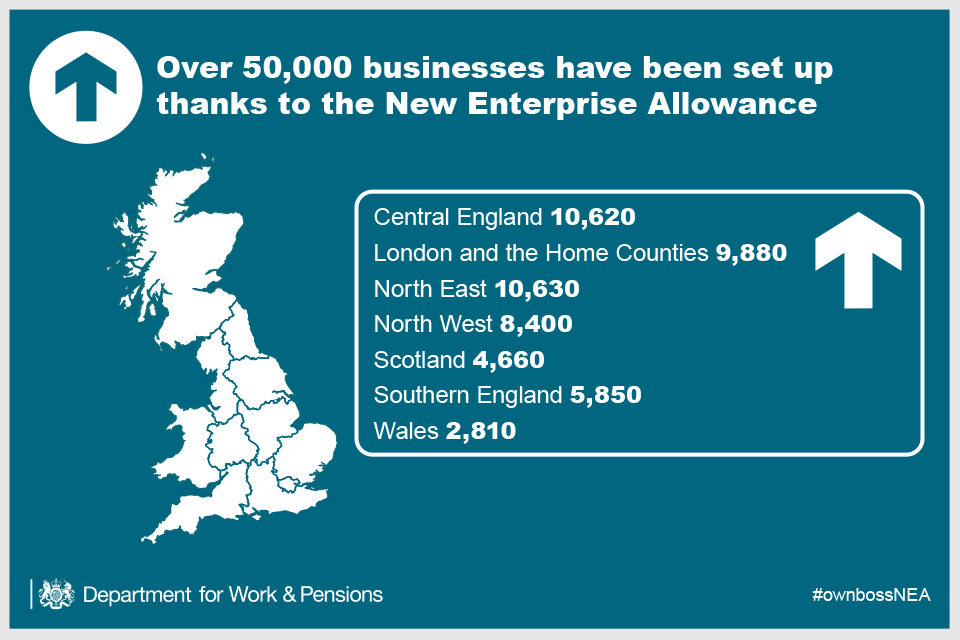 Since 2011, a UK government Ministry, the Dept for Work and Pensions (DWP), has offered unemployed people a means of financing their own business start ups.This initiative is known as the New Enterprise Allowance (NEA) scheme. Although the DWP proclaims that

tens of thousands of businesses have been set up under NEA

, the actual nature and profitability/sustainability rate of these

new businesses

has not been fully-disclosed.
https://www.gov.uk/government/uploads/system/uploads/attachment_data/file/524508/nea-provider-guidance.pdf
The DWP has set out a list of general rules for applicants and explains that certain jobs offered on a self-employed basis are excluded from the NEA scheme. Business plans which might bring the DWP into 'disrepute' have also been excluded.
Unemployed people can apply for NEA at one of a national chain of offices known as 'Job Centres.' Although it is not obligatory, the applicants' idea is then assessed by a 'business mentor' who can help decide its viability based on a classic plan of projected income and expenditure.
https://www.gov.uk/government/collections/new-enterprise-allowance-information-for-mentors
NEA 'business mentors' have been supplied by a number of private companies under contract to the DWP. Certain representatives of these companies have lately stated that applications for NEA from persons involved in various 'MLM' schemes, have been numerous, but that these numerous applications are systematically refused on the grounds that 'MLM' companies offer jobs on an self-employed basis, rather than businesses. To date the DWP itself has never stated any clear policy towards 'MLM' companies in regards to the NEA scheme.
If the NEA applicant is accepted, then he/she must stop claiming all other unemployed benefits. UK Job seeker's allowance is currently up to £57.90 per week for 19-24 year olds and up to £79.10 for 25 and over
The NEA recipient starts trading and must register his/her new business with the tax authorities.
NEA comprises a weekly allowance of £65 (paid for 13 weeks). This is then reduced to £33 per week for the next 13 weeks.
NEA recipients can finally apply for government business development loan of up to £2 500 to be paid back over a period 1-5 years at an annual interest rate of 6%.
https://botwatchblog.wordpress.com/2017/03/06/mlm-and-the-new-enterprise-allowance/
https://timelessvie.wordpress.com/tag/nea/
I'm not the only person to have noticed that social media has been infested with British
'MLM'
recruiters all boasting that
it is possible for unemployed persons to obtain NEA for the purpose of starting 'MLM businesses.'
Yet the hidden overall churn/loss rates in so-called

'MLM income-opportunities'

has always been effectively 100%.
In fact, m
ore than half a century of quantifiable evidence, proves beyond all reasonable doubt that what has become popularly known as
'Multi-Level Marketing
'
is nothing more than an absurd, cultic, economic pseudo-science, and that the impressive-sounding made-up term 'MLM,' is, therefore, part of an extensive, thought-stopping, non-traditional jargon which has been developed, and constantly-repeated, by the instigators, and associates, of various, copy-cat, major, and minor, ongoing organised crime groups (hiding behind labyrinths of legally-registered corporate structures) to shut-down the critical, and evaluative, faculties of victims, and of casual observers, in order to perpetrate, and dissimulate, a series of blame-the-victim closed-market swindles or pyramid scams (dressed up as 'legitimate direct selling income opportunites')

,

and related advance-fee frauds (dressed up as 'legitimate training and motivation, self-betterment, programs, recruitment leads, lead generation systems,'

etc.).
David Brear (copyright 2017)